Theatre in Education Productions
Penguin Acting uses Theatre in Education (TIE) work to empower children and young people to tackle important issues and explore their perceptions of the world around them.
We provide topical based performances alongside exploratory workshops to explore the themes raised in more depth. Our actors have the ability to build positive rapport and relationships with young audiences of all abilities.
Common topics include bullying, friendship and sexuality. However we can write customised scripts and devise tailor made workshops for delivery within your educational setting. We pride ourselves on providing high quality, innovative creative arts work. We also have a selection of successful pieces you can book.
We are based in Kirklees but are happy to travel across the UK to deliver preventative messages. We only charge you what it costs us because we want to make theatre accessible to as many people as possible. Email lou@penguinacting.co.uk for prices and bookings.
Lola's Story
Lola's Story is the sequel to 'Bobby' available from 2020. Bringing back some of the same relatable characters but the focus is on preventing young females from being drawn into child, criminal exploitation.
Bobby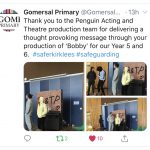 Bobby follows the experiences of a 12-year-old boy who doesn't recognise he is part of a gang until it is too late. This piece is in response to the increasing levels of youth, gang violence in Kirklees.
This piece has been touring schools since Sept 2019 and is fully booked until April 2020. We have presently reached over 6000 children.
We featured on BBC Look North on 3/12/19.
Pathways
Pathways follows the lives of four very different young people. It aims to raise awareness of the vulnerabilities associated with radicalisation and extremism both on and offline.
The piece was successfully piloted in 2018 and has been refunded to continue touring schools and colleges in 2019-20.