Lola's Story
Lola's Story is the sequel to 'Bobby' available from 2021. Bringing back some of the same relatable characters but the focus is on preventing young females from being drawn into child, criminal exploitation.
Bobby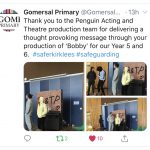 Bobby follows the experiences of a 12-year-old boy who doesn't recognise he is part of a gang until it is too late. This piece is in response to the increasing levels of youth, gang violence in Kirklees.
This piece has been touring schools since Sept 2019 and is fully booked until April 2021. We have presently reached over 6000 children.
We featured on BBC Look North on 3/12/19 and works in partnership with Kirklees Youth Intervention Team. This project is through West Yorkshire Violence Reduction Unit.
Pathways
Pathways follows the lives of four very different young people. It aims to raise awareness of the vulnerabilities associated with radicalisation and extremism both on and offline.
The piece was successfully piloted in 2018 and has been refunded to continue touring schools and colleges in 2019-20 and 2020-21. We work in partnership with Kirklees Prevent Team and obtain our funding through the Home Office.